Message form Director

Thank you for looking our website, I'm Hisayuki Ito, director of KOSAI Oriental Healthcare Center.
Acupuncture is the traditional medicine which has a long history from rooted in Japan, and has helped a lot of people. Since then, acupuncture has been widely recognized.
In recent years, with developing medical instruments, gene analysis and elucidation of blood substance has progressed, acupuncture scientific research also have been actively carried out.
The United States of NIH(National Institutes of Health), from the results of medical research about acupuncture, have recognized that there is evidence only in acupuncture among other alternative medicine.
Diseases and symptom in our web site can be improved and healed by acupuncture treatment without any side effects.
While to cherish the traditional treatments that we've developed, we incorporate the latest findings without settle for past history, so that everyone can be receive the best of acupuncture treatment, we would like to contribute to society through acupuncture.
About KOSAI
since 1905
The second Director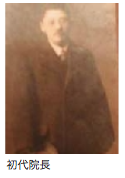 The first Director
Sinceits opening in 1905 (Meiji 38th year), KOSAI Oriental Healthcare Center has been meeting the needs of the patients for almost 100 years.
The invaluable clinical data and experiences accumulated over the years have resulted in our unique style of treatment technique. From infertility to skin allergy and hay fever, we have developed successful treatments for various illnesse and diseases. Our patients come from all over the region and we are well respected by all of them.
「広済衆生苦」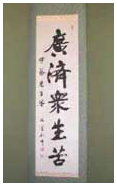 Ourgoal and ethic are enclosed in our center name "KOSAI".
KOSAI means " Saving people from pain and illness " which is actually our most dedicated objective in taking care of your health at the best of our capabilities.
The name of our center was kindly given by the famous temple Enkakuji in the Kamakura Mountains. Our ancestor received it from the temple's monks as a sign of gratitude for their relief from pain and illnesses. The temple's monks wrote it in a calligraphy scroll which expresses " relieving people from pain and Illness " That has become our dedicated philosophy in leading people to a pleasant healthy lifestyle.